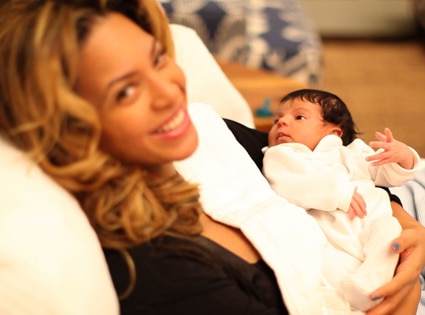 BeyonceOnline.com
After months of rumors, Beyoncé is speaking out against claims that she was faking her pregnancy.
"That was crazy," the 30-year-old mom told People of rumors that a surrogate was carrying her and Jay-Z's first child together. "It wasn't hurtful, it was just crazy. [I thought] 'Where did they come up with this?'"
MORE: Beyoncé Named World's Most Beautiful Woman by People, Like We Didn't Already Know
Also "crazy," Beyoncé said, was the whole prosthetic bump rumor, which spun out of control after the singer/actress was interviewed on an Australian TV show, and her baby bump appeared to deflate when she sat down.
"It was a fabric that foldedâ€"does fabric not fold?," Beyoncé shot back. "Oh my gosh, so stupid."
And Beyoncé and Jay-Z weren't the only ones miffed by the rumors.
While her little sis Solange was vocal about the "ignorance" on Twitter, tales of surrogacy secrets also upset The "Love on Top" crooner's mom, Tina Knowles.
MORE: Beyoncé's Alexander McQueen Mesh Leggings: Buy It or Burn It?
"I thought it was very unfair and very cruel that someone would think that someone would be that diabolical to keep up a charade like that for nine months," Tina said. "As a mother it was painful for me to hear the crazy rumors. And I even had people ask me, which was so ridiculous."
In spite of all the "stupid rumors," however, Beyoncé said "love and well wishes" from fans all over the world helped her get over it.
 Meanwhile, the singer is crazy in love with her 3-month old daughter, Blue Ivy.
 "I feel more beautiful than I've ever felt because I've given birth," Beyoncé told the mag. "I have never felt so connected, never felt like I had such a purpose on this earth."