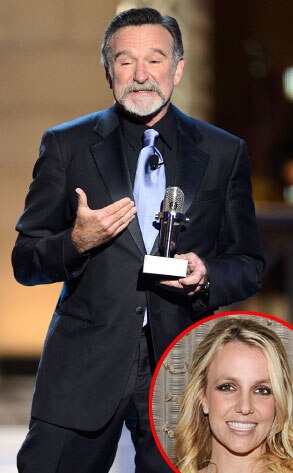 Kevin Mazur/WireImage
Robin Williams ain't gonna be hunting for goodwill from Britney Spears anytime soon.
We caught up with the legendary funnyman at the Comedy Awards on Saturday in New York City and noticed that the Oscar winner seems to have a matrimonial streak running through his life at the moment: He recently got hitched to graphic designer Susan Schneider, and he's currently set to star in the ensemble comedy The Big Wedding, about a divorced couple pretending to be married en route to their son's wedding day.
Natch, this prompted us to pose a pop quiz to the quick-witted comedian about the biggest spouse-themed, hot-button topic currently boggling all of pop culture: that Britney Spears' fiancé, Jason Trawick, was recently named her co-conservator.
Is this the matrimonial wave of the future? Or a sign of the apocalypse?
MORE: Jason Trawick Not Just Britney Spears' Fiancéâ€"Now He's Co-Conservator!
"One of the signs of the apocalypse," he cracked to us. "And I think she's on the calendar of 'Girls of the Apocalypse.'"
Eeep. Looks like that Sports Illustrated swimsuit calendar on our wall now has some competition!
Spears, of course, will now fall under the care of Trawick, whoâ€"per judge's ordersâ€"will be in charge of overseeing his fiancée's personal, day-to-day affairs. Her father, Jamie Spears, and attorney Andrew Wallett will continue to manage the 30-year-old pop star's finances, including control of her estate.
"That's kind of a double bill," Williams says of Trawick's appointment. "It's like having your dealer as your therapist."
Ka-pow! Ever doubt that Williams serves up some of the tastiest bons mots around?
MORE: No Foolingâ€"Robin Williams Is Remarried!
Spears chatter notwithstanding, Williams was also happy to tell us which of his past movies he'd love to revisit for a sequel. And, curiously, it also involves an element of marriage.
"The Birdcage would be wonderful," he revealed. "I'd love to do that againâ€"it'd be great. It's just a question of finding the right way. Especially now, with the whole issue around gay marriage."
Quite the timely hook, then?
"Just a touch, yeah," he said. "So maybe we'll have to see if they can write it."
Hey, anything that reteams Williams with Nathan Lane, we're so there. Maybe there'll be room on the soundtrack for a ditty...from Spears?