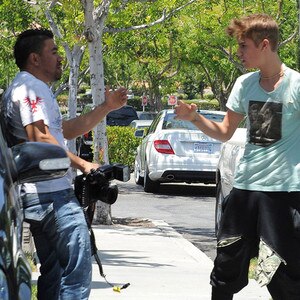 Raef-Ramirez/AKM-GSI
Justin Bieber is ready to put the drama behind him.
The pop star and girlfriend Selena Gomez have both spoken out in the wake of their headline-grabbing encounter with paparazzi over the weekend, with Gomez thanking fans for sticking by her, and Bieber breaking his silence on the alleged altercation and promising his loyal base that he's staying committed to "the important stuff."
Which, in his case, is the music. And he wasted no time in delivering on that promise, releasing his new single, "Die in Your Arms," this morning.
MORE: Justin Bieber in Alleged Altercation With Photographer

"Gonna focus on the important stuff," he tweeted after the paparazzi run-in. "The music."
True to his word, Bieber this morning released the newest singleâ€"a presumptive radio-flooding, upbeat, poptastic summer anthemâ€"from Believe.
MORE: Justin Bieber Dispels Selena Gomez Breakup Rumors

"My fans have always been there," he tweeted. "From day 1. they are there for me thru everything. they lift me up. so...im there for them. always. #FACT."
The adoration is clearly mutual, as both Bieber and Gomez's Twitters have been flooded with support since Sunday morning, when a photographer claimed he got into a physical altercation with the 18-year-old singer after attempting to snap pics of Biebs and his girl.
Gomez, for her part, also took to social media after the incident to make sure her fans knew where she stood.
"THANKS YOU SO MUCH to my fans for always protecting me and being there for me," she posted on her official Facebook page by way of explaining her hasty retreat from the Calabasas mall where the alleged incident went down. "I can't thank you guys enough. I'm sorry I had to rush out. Love you guys."