We like to joke that Anna Wintour's the Regina George of Fashion (can't you just hear her uttering, "You can't sit with us!!"?) But this weekend it was Selena Gomez who pulled a "Mean Girls" in a rather amusing dress.
The popstar showed up to producer Joel Silver's home in Malibu on Monday in a gray cotton maxi dress with what appeared to be two cut-outs at the chest, Regina George-style...
We had only to scan downward to realize that the two ovals resting on Selena's chest were "eyes" to match a smiling "mouth" below (and that those cut-outs weren't cut-outs at all). But she had us going there for a second -- check out the vintage "Mean Girls" clip below if you don't believe us.
It should also be noted that Selena chose the playful dress for a celeb-heavy affair. As we just recently discovered, Joel Silver throws a star-studded Memorial Day barbecue each year, this year hosting Dianna Agron, Kate Beckinsale, Robert Downey Jr., Barbra Streisand, James Brolin and famous kiddies with their parents including the Maguires, the Arquettes, the Stefani/Rossdales and more.
Given the family-friendly nature of the event, we're glad Selena didn't opt for a sexy cut-out look. Very good call.
PHOTO: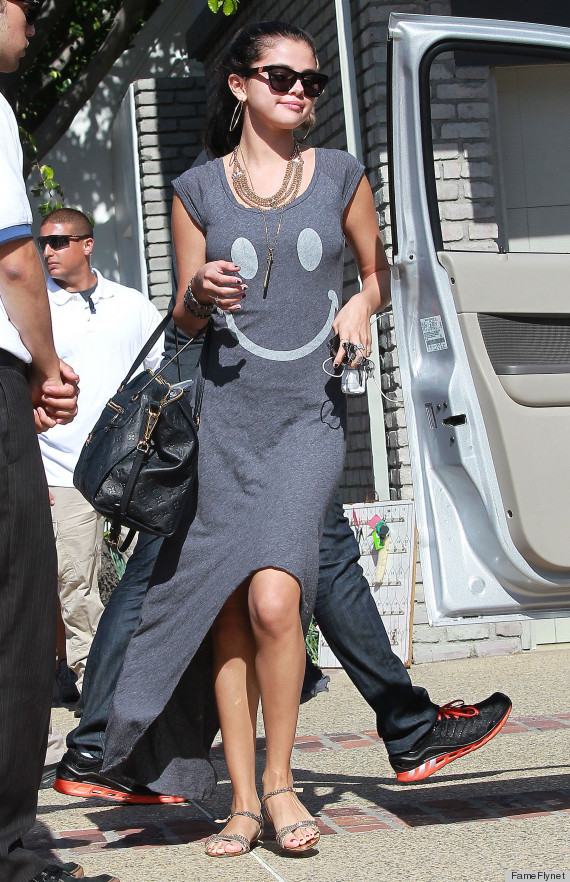 WATCH:
"; var coords = [-5, -72]; // display fb-bubble FloatingPrompt.embed(this, html, undefined, 'top', {fp_intersects:1, timeout_remove:2000,ignore_arrow: true, width:236, add_xy:coords, class_name: 'clear-overlay'}); });