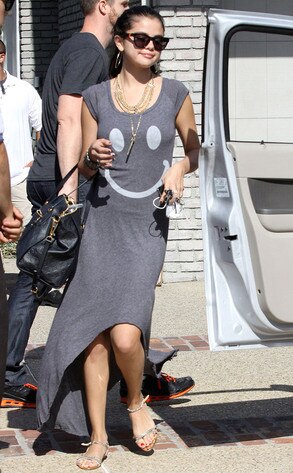 David Tonnessen, PacificCoastNews.com

Someone's happy and we know it!
Observe Selena Gomez as she rolls up to a Memorial Day barbecue thrown in Malibu by mega-producer Joel Silver.
Justin Bieber's girlie wore a gray maxi with the classic happy face symbol, along with oodles of gold accessories and an oversized leather handbag.
So, was Bieber on hand? Perhaps wearing a complementary tee with a unicorn leaping over a rainbow?
READ: Justin Bieber Dispels Selena Gomez Breakup Rumors, Announces Believe World Tour Dates
No. The day after Justin got into an alleged tussle with a paparazzo, the "Boyfriend" singer jetted off to Norway to put on a free concert for thousands of shrieking Viking women.
His 19-year-old gal-pal, meanwhile, comforted herself in her loneliness by piling on at least two necklacesâ€"one of which may or may not have been stolen from the set of Mad Menâ€"three rings, giant hoop earrings and a mega-cuff bracelet.
We're not fans of over-accessorizing like this but, as a whole, the casual-chic look works great.
Well played, Selena.