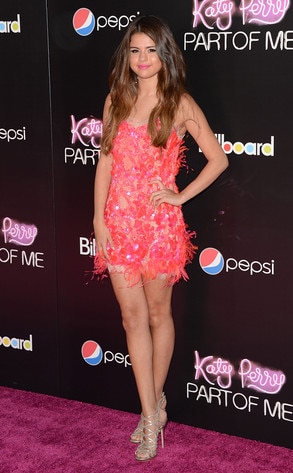 Jason Merritt/Getty Images

You know that thing where you see something sooo tacky, so utterly fug, that you have to politely avert your eyes and dry heave into your own hand?
Yep, that's what we just did courtesy of Justin Bieber's main squeeze, Selena Gomez, and this feathered Emilio Pucci dress last night at the Hollywood premiere of Katy Perry: Part of Me 3D. Excuse us for another sec while we blech.
The 19-year-old sure knows how to show off her best asset though…
READ: Selena Gomez Lightens Her Hairâ€"How Does It Look?
Those gams took center stage in the mini as they smartly ran down and away from the hot-pink beaded and paillette-covered disaster that was happening up top.
The "Love You Like a Love Song" singer didn't help matters by pairing the look with ombre locksâ€"seriously, enough of this!â€"and a bitch face that's borderline constipated.
We aren't completely heartless, though, we love the pop of pink lip and those metallic Jimmy Choo strappy sandals and…and…
Yeah, sorry, that's all the nice we have in us today!
Loading poll...