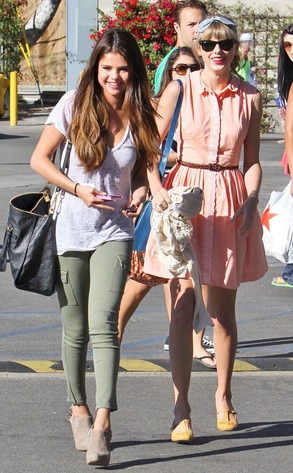 JACSON/FameFlynet

Nothing to see here folks, just two girls walking in the Malibu sun like every other pair of chicks in skinnies or ironic retro head scarves.
Well, OK, that's a lie. We're actually looking at a prime piece of paparazzi bait: that's Selena Gomez in the jeggings and Taylor Swift behind the 60s-era shades and thrift shoppe chic. (The frock is definitely thrift shoppe, not thrift shop.)
And because we have nothing better to do but make up a feud that does not exist, we ask you: Which girl is rocking the cazh girls' day out look best?
READ: Taylor Swift and B.o.B. Get Gritty in "Both of Us" Music Videoâ€"Watch Now!
First up is Justin Bieber's babe, all easy elegance in a neutral palate that includes a loose, heather gray tee, green skinnies and fawn booties. The oversized handbag looks like it weighs more than she does, but that's fash for you.
As for the country megastar, maybe it's only natural for her to channel a bit of June Carter Cash in this femme head scarf, Mary Jane flats and a coral pink sleeveless shirt dress perfect for auto harp pickin' and pie bakin'.
The occasion for the girl-on-girl fashion faceoff? A day out in Malibu. And a chance for us to invent a completely fictional bitch fight.
Loading poll...