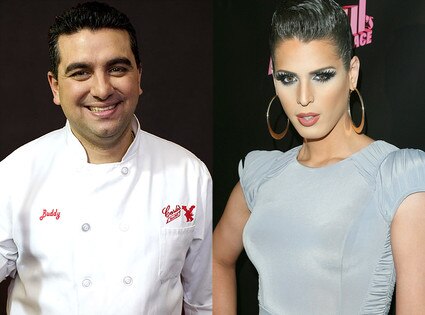 TLC; Jesse Grant/WireImage
Sorry, Buddy Valastro, we don't think anyone found your joke very funny.
TLC has pulled Monday's episode of Cake Boss after RuPaul's Drag Race star Carmen Carrera, a transgender woman, expressed that she was very unhappy with how she was portrayed on the reality show.
According to the L.A. Times, Carrera felt that producers brought her on the show under false pretenses, making her believe that she would be a role model for the transgender community, but instead fell victim to Valastro's "homophobic prank."
So what happened?!
READ: Transgender America's Next Top Model Catwalker Isis King Goes to Work on American Apparel Campaign
There was a scene during Monday night's episode that showed Carrera and "Cousin Anthony" Bellifemine flirting, which led to a peck on the cheek from Carmen.
"Anthony, right now, is on top of the world. He don't know what's coming, baby," Valastro said in a voice-over.
Then Buddy told Cousin Anthony, "That's a man, baby!" And he flees from the bar.
Carrera took to Facebook to discuss her discontent, posting, "Im really trying to be a positive role model for trans people and it upsets me that ... I SPECIFICALLY asked the producers of 'Cake Boss' NOT to disrespect me or trans people. Before I agreed to do this show, I was assured and then reassured that it wasn't going to be like the JERRY SPRINGER show or MAURY. Let me make this clear. CALLING A TRANSGENDER WOMAN A MAN IS WRONG. Period. Its degrading, its rude, and its very hurtful."
READ: Transgender Punk Rocker Tom Gabel Makes Stage Debut as Laura Jane Grace
 A producer and Valastro later apologized to Carmen, and TLC said they would remove the episode but acknowledged that an edited version might return to television.
"TLC can confirm that the episode was immediately removed from rotation after learning of Carmen Carrera and her supporters' concerns, and the network is reviewing the content to see whether it could be reintroduced following edits," a spokeswoman wrote in a statement to the Times.
Meanwhile, the reality show's Facebook page offered an apology from Valastro.
"I've been trying to connect with Carmen and apologize to her directly, but also think I owe an apology to the entire LGBT community. It was absolutely not my intention to upset or offend her, or anyone within the community, and I was wrong to use the words I did. I am a supporter of gay rights and equality, and while I regret this situation and my choice of words, I am thankful to have received this feedback and the opportunity to learn from this mistake. I hope that Carmen accepts my sincere regrets."
"Crazy day," Carrera tweeted, "Emotional roller coaster to say the least, but all at the same time doing laundry and cooking for my family ."