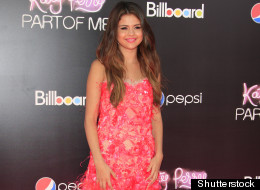 Last night, Selena Gomez celebrated her birthday at the Teen Choice Awards in Los Angeles. When she accepted the Choice Music Group Award for her band, Selena Gomez and the Scene, she was serenaded with an audience rendition of "Happy Birthday" and presented with a platter of sparkler-topped cupcakes. The birthday girl also stunned on the red carpet in a fuchsia minidress.
"This is the best birthday ever," she said.
While the pop star may turn 20 today, she's not leaving her teen years behind any time soon. She once told Latina Magazine, "I feel very young at heart, and I still want to jump up and down on my bed singing and rocking out." And the former Disney starlet is true to her word -- whether she's lip-syncing to "Super Bass" backstage or pranking her fans, Selena definitely has a youthful spirit. In honor of Selena's passage into adulthood, we looked back and collected 10 of her funniest/most adorable moments. Click through the slideshow below to see them for yourself!
Are you a Selena fan? Which moment had you laughing the most? Sound off in the comments below or tweet @HuffPostTeen! (Don't forget to tag @selenagomez, too.)
"; var coords = [-5, -72]; // display fb-bubble FloatingPrompt.embed(this, html, undefined, 'top', {fp_intersects:1, timeout_remove:2000,ignore_arrow: true, width:236, add_xy:coords, class_name: 'clear-overlay'}); });