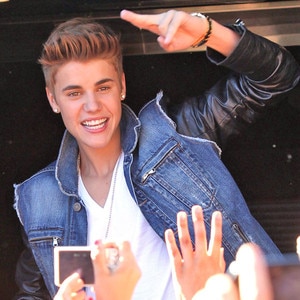 FameFlynet
One rapper likes Justin Bieber so much, he put a ring on it.
Yes, this individual gifted the Biebs a very nice piece of jewelry (some reports estimating it's worth $30,000!), Justin's manager, Scooter Braun, told MTV News.
The generous musician called Justin "a true G," noting that it's "nice to see you can be that big and not be affected by it."
So who gave J.B. this BFF bling?
READ: Justin Bieber Surprises Fans With "Boyfriend" Sing-Along
Jason LaVeris/FilmMagic
Big Sean!
"When they first met, Sean has this ring. It was his first ring he ever bought, the first piece of jewelry when he got his record deal. He gave it to Justin [at the Today Show]," Scooter said. "He said, 'I know you said you liked it, and I want to say thank you for involving me in the process and being a part of this. And I want you to have the ring.' And he took it off, and Justin put it on and it was a real genuine moment. They're friends."
The duo recently teamed up for Justin's Believe album on the song "As Long as You Love Me."
Big Sean and all Beliebers should mark their calendars: Justin will be performing at the Teen Choice Awards, Fox announced in a press release Monday. Teen Choice 2012 will air live July 22 on Fox.