September 08, 2012 05:25:10 GMT
Gomez wants to 'break out a little' by doing drug and smoke scenes in the film, while Hudgens admits its 'very nerve wracking' to have threesome with Ashley Benson and James Franco.

---
Being known as Hollywood sweethearts and former Disney darlings, and might shock some of their fans with their raunchy performances in "". A far cry from their images as teen idol, the characters they're playing are rather wild and promiscuous. Commenting on how they felt when tackling the daring roles in the coming-of-age drama, both Gomez and Hudgens have their own stories to tell.
Gomez admitted that she wanted to "break out a little" by taking the role of Faith, who smokes cigarette, does drugs and rolls around only in her undies. "I absolutely do everything for my fans and they mean so much to me... [but] this is something that I did for me," the girlfriend of told E! News. "I really want to break out a little and see how I can stretch myself."
Realizing that her performance might be a little too racy for some of her younger fans, Gomez warned, "Don't go see it unless you're 18 and over." Still, Gomez's naughty work seemed nothing compared to what her co-star Hudgens and did. The two girls shared a three-way sex scene in a pool with .
Weighing in on the steamy scene, Hudgens admitted, "It was very nerve wracking." She, however, managed to stay professional and gave her best performance, saying, "I've never done anything like that before. I'm just very thankful that I had one of my best friends to do it with." Franco chimed in, "I guess I just try to stay relaxed [and] don't use any teeth."
In "Spring Breakers", Franco stars as a drug and arms dealer who bails Gomez and the gang out of jail and entices them to kill his rival. The rebellious girl gang themselves previously decided to rob fast food joint so they can afford to go on spring break in Florida. After being screened at both Venice Film Festival and Toronto International Film Festival, the Harmony Korine-directed movie will open in the U.S. on March 5, 2013.
© AceShowbiz.com
Browse
Spring Breakers Pictures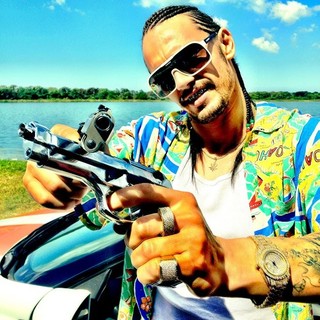 ---
---
---